6 Design Tips to Embrace Hygge in your Home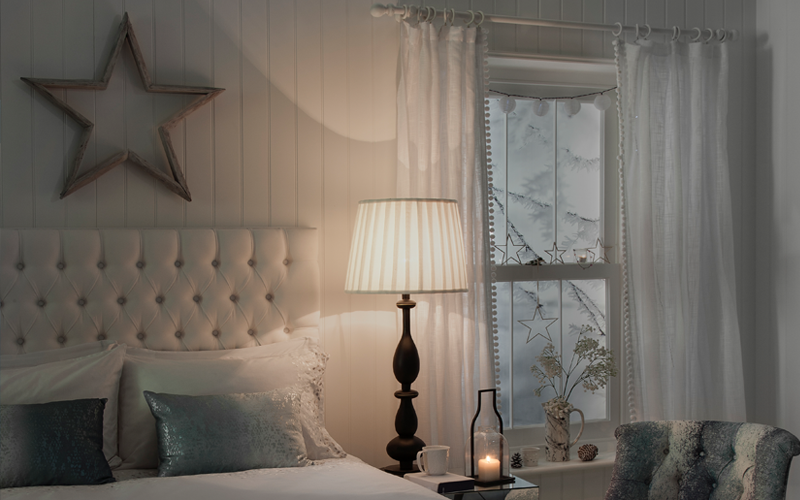 The clocks have gone back and nights are drawing in, the weather is on the turn with frosty mornings and chilly nights. This is the perfect time to create a sanctuary in your home fit for hibernation, filled with warm blankets, hot chocolate, log fires and evenings curled up with a good book.
The trend for the Danish concept of Hygge (pronounced hoo-gaa) is not slowing down. With no direct translation to English, Hygge represents the Danish lifestyle of living well, getting cosy and spending time with the people you treasure the most, everything the lead up to the festive period is all about. We have the perfect guide to help you create the feeling of Hygge in your home.
1. Simplicity is Best – The Danish style is simple, functional but stylish. Choose clean lines, muted and natural colour schemes and keep trinkets and decoration to a minimum. If you are looking to update your bedroom go for a stylish yet practical option. Our Middleton Storage Bed in natural tones, grey linen or a velvet fabric coupled with our Compton Headboard upholstered to match will give you just that. Plus, if you are quick they are both available on our new Express Delivery Service, so you'll have your bed in time for Christmas!
2. Bring Nature Indoors – The Danes love to take inspiration from nature when it comes to interiors. Choose décor that celebrates nature, such as naturally finished wooden furniture. Our Worthing range is crafted from natural solid oak that shows off the beauty of the wood – the Nest of Tables make the perfect perch for a cup of hot chocolate or glass of mulled wine.

3. Bring in Texture – Hygge isn't really a physical thing, but it's often associated with being cosy. Bringing in lots of textures to a room with knitted blankets, soft throws, plumped cushions and fur rugs, adds interest without being over the top and also provides you with added warmth on a cold evening. The Twineham Herringbone throw is super soft and is available in Mocha or Burnt Orange, or go ultra-cosy with the Sompting Cream fur throw.
4. Create a Cosy Corner – The Danish love to create a snug area in the home, where you can escape and relax, lovingly referred to as 'hyggerkrogs". Create your own cosy snug with a comfy armchair like the Goodwood combined with the Merston Footstool, a Shripney Throw and a good book. Bliss!
5. Mood Lighting – Lighting can really transform the feeling of a room taking a space from functional to romantic or warm and inviting. Add in a variety of light sources at different levels to create a peaceful atmosphere. Pendant lighting makes for a great feature, table lamps light up dark corners and candles and lanterns like the Coleman add a soft flickering glow.
6. Make a Fragrant Sensation – Complete your Hygge transformation with some gloriously scented candles, reed diffusers in your favourite scent or even the smell of freshly baked cakes and coffee and you will have created a winning combination. All that's left? Just add family and friends!
02 November, 2017