Chaise Lounge or Chaise Longue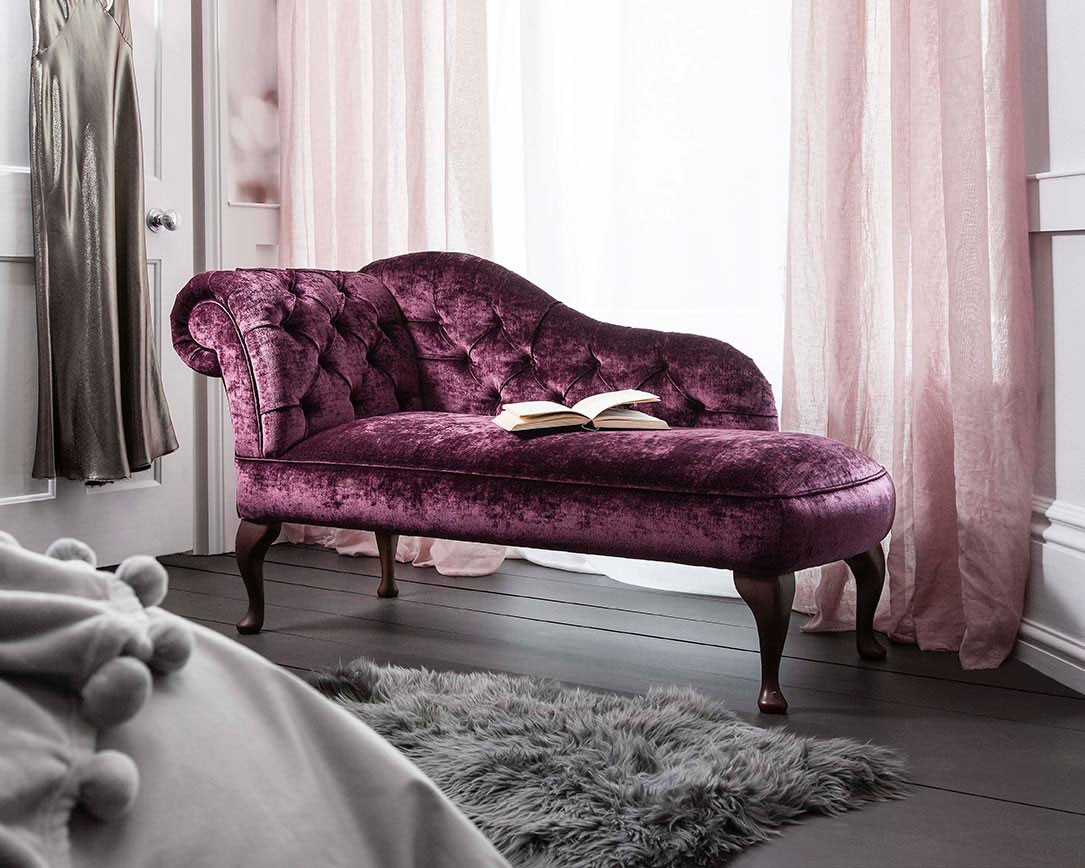 Relax in Elegance On A Upholstered Chaise Lounge
The chaise lounge can also be pronounced as chaise longue, it has been a staple piece of furniture in luxury bedrooms for centuries. The chaise lounge is a timeless symbol of luxury and opulence, whether you choose the classic, French chaise lounge or the clean lines of a modern upholstered bench, you will be sure to make a stylish statement in your home.
But what exactly is a chaise longue – and why should you think about introducing one into your living room, bedroom, hallway or conservatory.
A 'LONG CHAIR'
Yes – chaise longue literally translates from French into English as 'long chair'! It's relatively fitting, as it's an extended seat for indoor use for you to stretch out and put your legs and feet up on. It is somewhere between being a chair and a sofa. However, they are probably best suited for a day lounging as opposed to sleeping on.
Chaise longues are designed for relaxing. When you don't feel like laying down completely, but want to sit back a little more, they can offer you the perfect level of comfort and support. What's more, they add a touch of elegance and charm to transform the rooms in which they sit.
A BRIEF HISTORY
The chaise longue, as its French name might suggest, is traditionally associated with France, has been a staple feature in boudoir across the continent. However, archaeologists have uncovered that chaise longues actually started life as far back as in ancient Egyptian times! That means the seating could be thousands of years old, at least in its initial design. They were traditionally made from wood but introduced ivory along the way.
The Ancient Greeks and Romans made use of chaise longues, too. They were traditionally used for social occasions, and may even have been used during dining. Upholstered chaise longues wouldn't come along for a long time yet, though their purposes and intentions have always been precise.
Modern chaise longues owe a lot to 16th-century France, and while they haven't been seen as an essential piece of bedroom furniture for some time, they still offer an incredible, luxurious touch as well as plenty of comforts when you wish to recline to a certain extent.
WHICH CHAISE LOUNGE SHOULD YOU BUY?
There are different types and style of chaise longue available. Typical Meridienne style chairs have high backs and arms located on one side. Therefore, depending on how you like to lounge, and where you will be placing the chaise lounge, you should think about whether left or right will suit your needs better.
There are other styles of chaise longue such as the Recamier, which have a foot as well as a head, and the Duchesse Brisee, which is actually comprised of three separate parts. All three styles of chaise longue will look fantastic in both modern and traditional interior decor and will be sure to offer incredible comfort no matter how you use them.
WHERE TO BUY A CHAISE LOUNGE
Why not start taking a look at the different styles of high quality upholstered chaise lounges available to you now at Mood Collections?
07 June, 2019