Buying an Upholstered Bed Online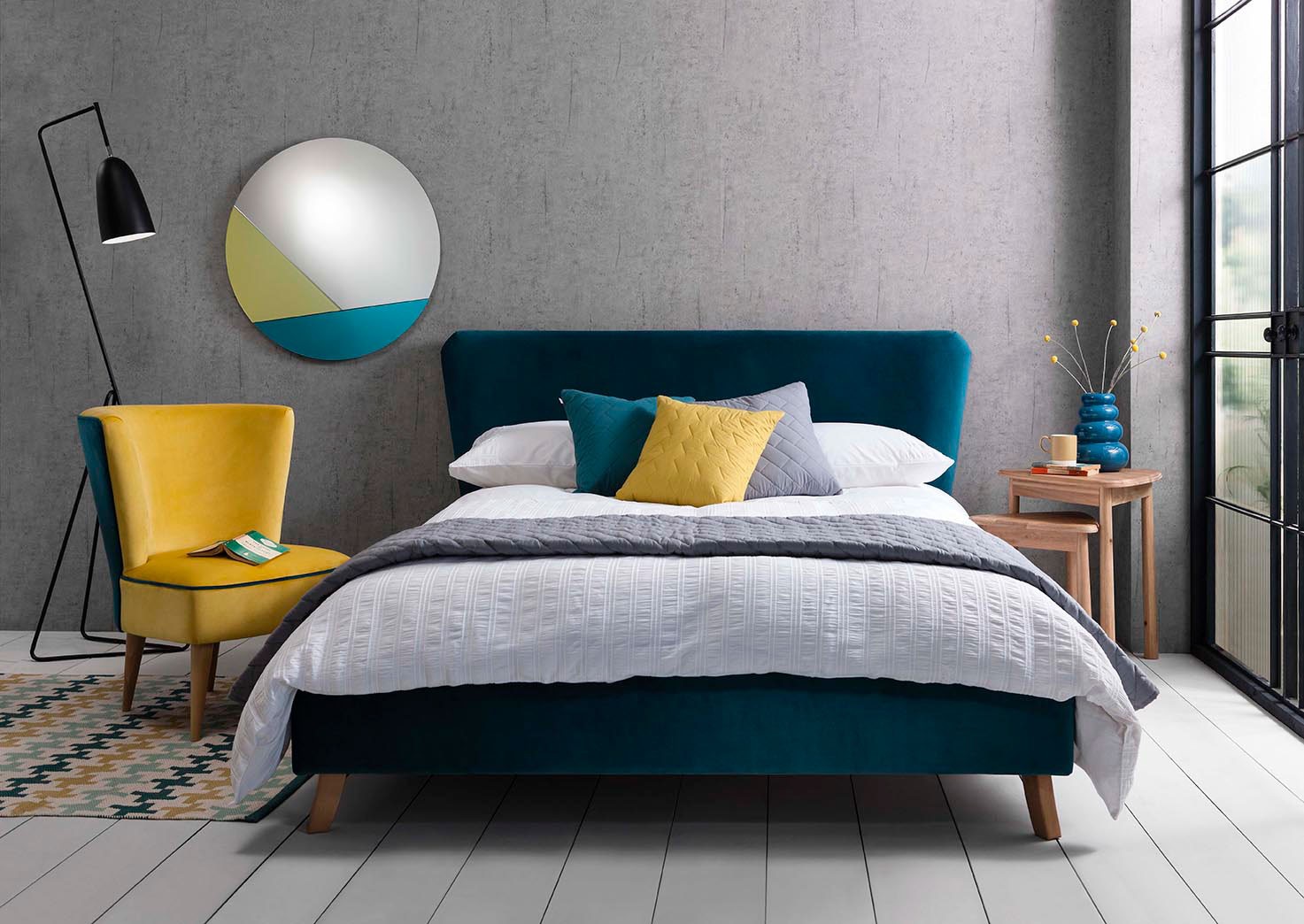 If you're thinking of buying a new bed for your bedroom, but are unsure where to start, why not think about designing your bed with an upholstered bed frame to suit your bedroom decor? With so much choice on bed style, size, colour fabric and leg style, you can design your perfect bespoke upholstered bed easily online.
Buying Your First Upholstered Bed
If you're making a move from a standard bed frame to an upholstered bed frame, you will need to know the difference; an upholstered bed frame is a wooden bed frame that is padded and covered in a fabric such as velvet, linen, faux suede or leather. The most significant benefit of an upholstered bed frame is the comfort it provides. If you are the sort of person who enjoys spending time in bed watching TV or sitting up and reading, an upholstered padded headboard will provide you with a soft cushioned support.
Fabric bed frames and headboards are a popular choice, for the comfort, warmth and luxury at an affordable price, and will look fantastic in any modern, traditional or contemporary bedroom décor they are especially recommended for anyone who likes high quality and luxury.
Consider Your Existing Bedroom Space
While you may wish to leap right into buying an upholstered bed online, you will always need to consider how good it will look in your existing space. If, for example, you only have a small bedroom, you will need to be prepared for how much space a double, kingsize or superking upholstered bed will take up, make sure you check the bed sizes on each website. There is also the matter of maintenance – while we offer plenty of simplified upholstered bed options, they do still require plenty of attention when it comes to cleaning and vacuuming.
If you are willing to keep your bed frame looking fabulous from week to week, then an upholstered option may well be a good one to take. However, we do recommend that pet owners consider a pet-friendly fabric.
Buying an Upholstered Bed at Mood Collections
Upholstered beds are a fantastic choice for individuals, couples and families looking to add a touch of elegance to a bedroom. Mood Collections have a wide variety of different upholstered bed frame styles for you to choose from, from platform beds, chesterfield beds, sleigh beds, ottoman beds to winged headboards, which means you can easily choose the perfect bed frame in a fabric of your choice to complement your existing bedroom interior design.
Upholstered beds do make an impressive focal point. Why not take a look at our wide range of upholstered bed frames for your bedroom. See and touch your fabric choices from the comfort of your home before you decide with our free fabric swatch sample service. Order up to 6 fabric swatches, and we will post out your choices within 2 - 3 days.
11 April, 2019