Luxury Headboards - Buying Guide to the Types of Headboards and Sizes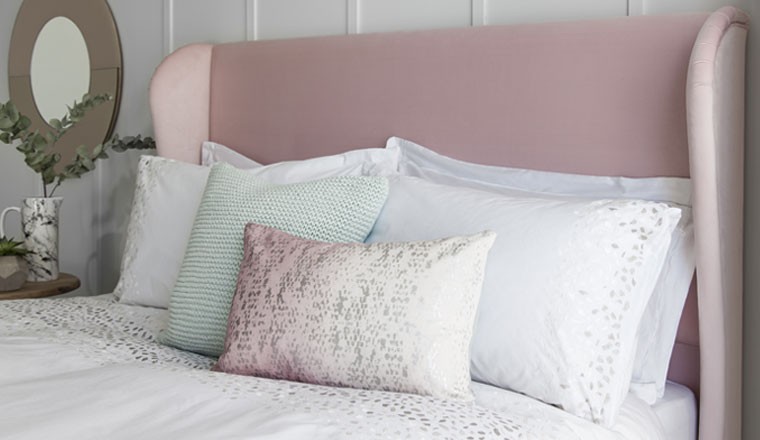 Luxury headboards upholstered in beautiful hardwearing fabrics are very much on trend and add a touch of elegance to a bedroom. Whether you need a bed headboard in a specific size, material or fixing, we aim to provide you with information on buying the perfect luxury upholstered headboard to coordinate with your bedroom furniture and interior décor.
WHAT ARE HEADBOARDS USED FOR?
If you're new to buying headboards, there are many great reasons why you should consider finding the right style of luxury headboard for your bed.
Your bed is the largest and most important piece of furniture in your bedroom, it is the centrepiece of the room, so it is important to take time to buy the perfect upholstered headboard.
• Luxury headboards help to create a statement. They are often the focal point of a bed when you walk into a bedroom.
• Upholstered headboards are padded so are incredible comfort. to lean against
• Fabric covered headboards are covered in a range of fabrics from linen, velvet to faux leather, suede and many more so you can create a unique headboard that matches your bedroom décor, or is a luxurious feature statement.
• They're practical, too – they help to keep your pillows in place.
HEADBOARD SIZES
The size of the headboard you'll look for will largely depend on the size of your bed, we recommend that you check your bed size before buying. Here are the most common headboard sizes we sell online to customers.
SINGLE HEADBOARDS - 3FT
Single headboards are available in a range of shapes, styles and height, such as our Compton single headboard a minimalist bed headboard design that comes with struts and is easy to attach to the back of a divan base to enhance the look and style of your single bed
DOUBLE HEADBOARDS – 4FT 6
Double upholstered headboards are a popular choice, and we have a beautiful range of bed headboards for double beds, such as our Wittering double headboard a contemporary style that is deeply padded and has a height of 65cm so perfect for a relaxed morning with the papers.
KING SIZE HEADBOARDS – 5FT
King size upholstered headboards are one of our best selling bed headboards they are designed to make a statement, they can be used in guest rooms and holiday homes. Our Rustington king size floor standing headboard adds sophistication and luxury to both modern and traditional bedroom. A king size bed deserves a king size headboard!.
SUPER KING HEADBOARDS – 6FT
Superking upholstered headboards are a grand choice for a master bedroom, they bring hotel luxury to a superking size bed. Superking headboards are a superb focal point to both contemporary and classic style bedroom . Our Hayward super king headboard at just under 5ft tall is a statement bed headboard adding the utmost in style and contemporary elegance.
EMPEROR HEADBOARDS 6FT 6 AND 7FT
Emperor upholstered headboards add a touch of indulgent grandeur to both modern and traditional style bedroom . Our Charlton headboard can be made to order in either a 6ft 6 or 7ft Emperor headboard adding the utmost in glamour and contemporary style.
TYPES OF UPHOLSTERED HEADBOARDS?

PANEL HEADBOARDS
Panel headboards are a modern and stylish design of headboards, they are designed with panels of equal sizes, within a rectangular frame.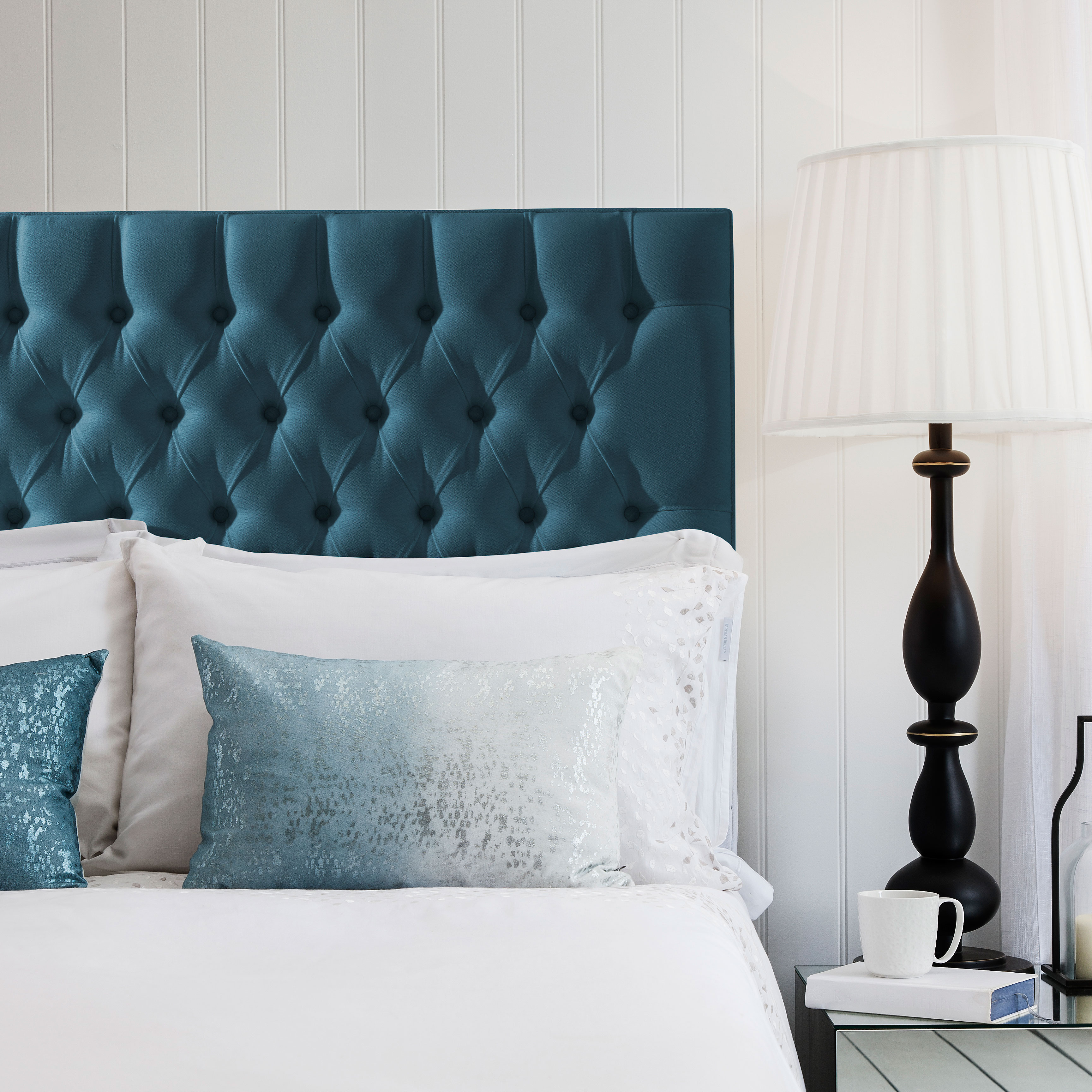 CHESTERFIELD HEADBOARDS
Chesterfield headboards are a modern take on a traditional headboard, a style that embodies the perfect combination of sophistication and comfort. they are designed with buttons, diamantes or stiching to create a tufted effect that gives the illusion of depth and dimension. These headboards are very comfortable and available in curved and rectangular frames.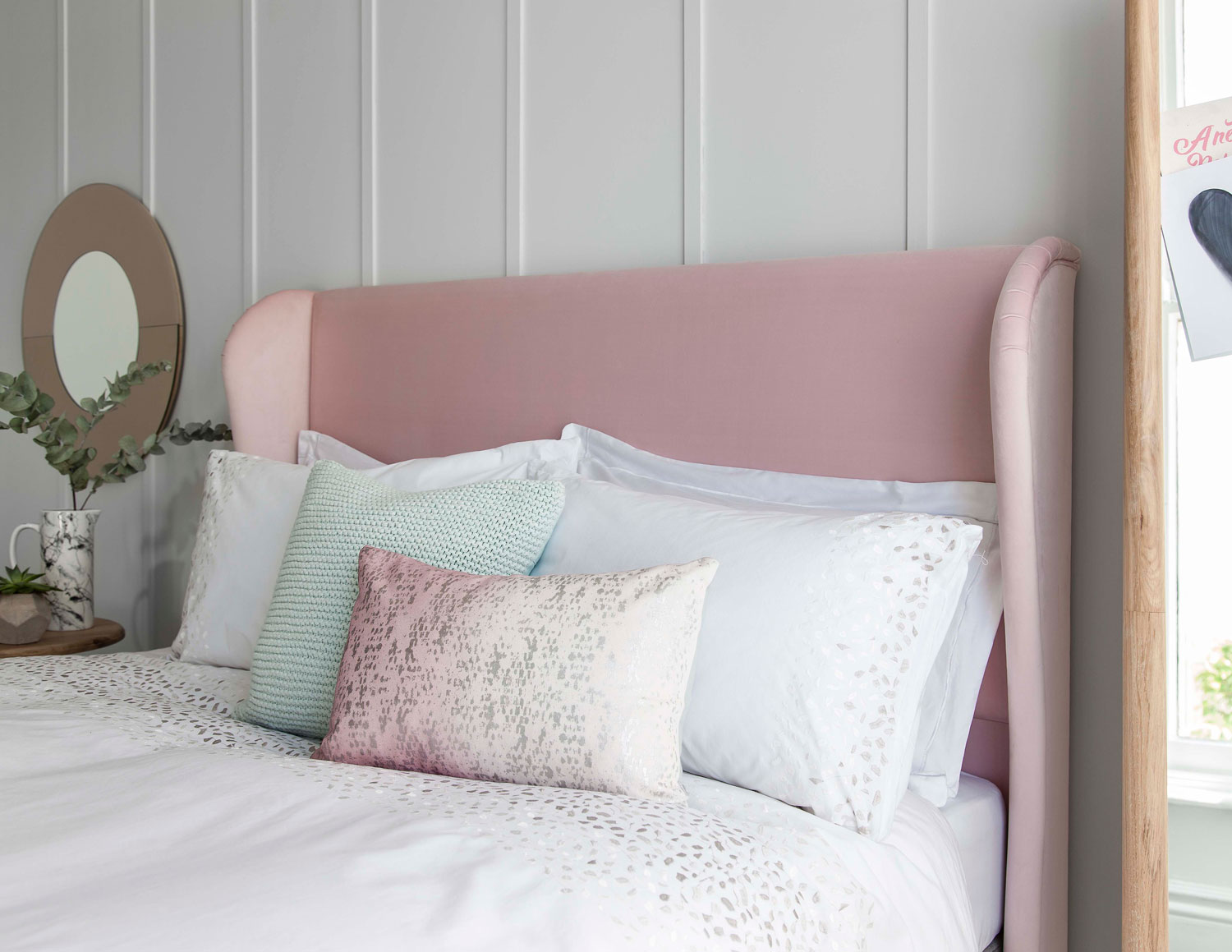 WINGED HEADBOARDS
Winged headboards are also known as wingback headboards, they are a luxurious headboard that adds instant character to a bed frame with curved or wings that wrap around the bed. A popular choice for luxurious hotels.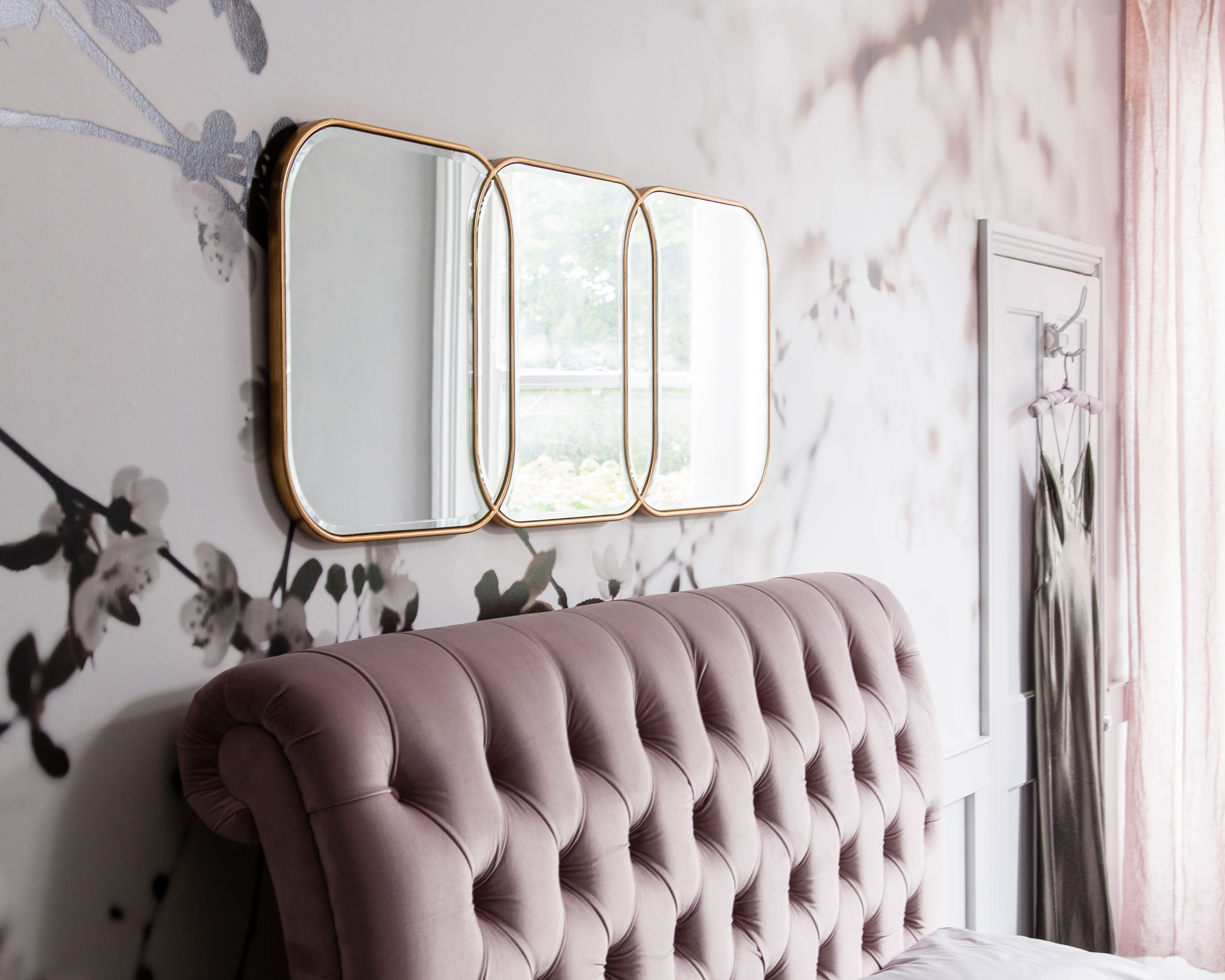 SLEIGH HEADBOARDS
Sleigh headboards are a modern take on a classic bed to add character and elegance to your bedroom., designed with a curved roll top for an opulent style.
TYPES OF HEADBOARD INSTALLATION
Believe it or not, there are more than a few ways to have your headboard set up and installed. A divan bed base is perfect if you like to change the interior décor of your bedroom regulary as you can swap the style and colour of your headboard easily. Here are some common choices:
WALL MOUNTED
Many of our upholstered headboards can be wall-mounted for ease of use and flexible positioning. We will supply you with all the fixings you'll need. This means you'll be able to mount your headboard to the wall as opposed to having it fixed to the bed.
BED FRAME STRUT MOUNTED
Strut mounted is perhaps the most popular way to fix a headboard to a bed. The struts will be attached to the back of your bed with headboard bolts.
FLOOR STANDING
Floor standing headboards are a popular choice for a chic, hotel style headboard. They can also be called freestanding headboards; they are designed to start from the floor upwards. Floor standing headboards can be as tall as the beds they are fitted to. These headboards can be fitted to a wide range of different beds and are designed to snugly fit without any connections being too obvious for an utterly tailored finish to your bedroom.

19 April, 2019