Crushed Velvet Beds on Trend for Millennials Bedrooms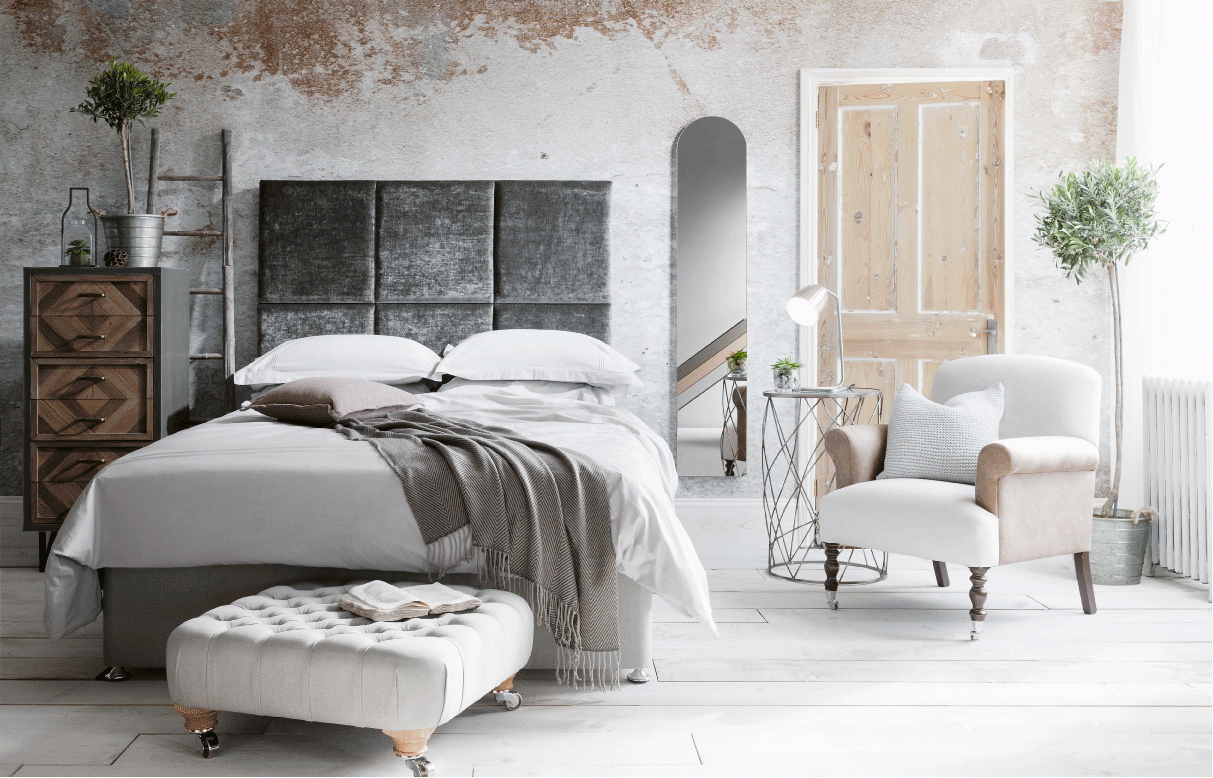 It's 2019, and the trend for luxurious crushed velvet beds and bedroom furniture is set to continue.
The millennials and celebrities love of velvet beds is a growing market, it is a hotel luxury lifestyle that they want to incorporate into their master bedroom or bedroom interior, internet statistics show that Millennials and Generation Z consumers drive 85% of luxury market growth.
It is easy to see why the luxurious velvet bed has become the best selling bed frame at Mood Collections.
Why Buy a Velvet Bed Frame?
Velvet beds can add glamorous elegance and opulence to both traditional and contemporary bedroom. Velvet beds are soft to touch, extremely comfortable and can also add warmth and texture to your bedroom.
Here at Mood Collections, we offer a superb range of hardwearing velvet fabrics for our upholstered bed frames in a range of colours from soft pastels and neutrals to rich bold and vibrant tones. Our best selling velvet upholstery fabrics are silver-grey and blush pink
Bring Luxe to your Bedroom
Finding your ideal fully upholstered velvet bed frame will, of course, depend on the size of your bedroom and if you are looking for a traditional or contemporary style bed frame.
For traditional lush glamour, choose a king size or superking bed frame with a deep buttoned headboard with the option to replace the buttons with Swarovski crystals, the short, dense pile of velvet, and the sparkle of the crystals will catch the soft bedroom lighting beautifully. Our Madehurst velvet bed is a fabulous centrepiece to a glamorous modern bedroom.
For contemporary plush charm, choose a silver-grey velvet bed with a high panel headboard for ultimate luxury with a modern touch. Our Charlton upholstered headboard is a stunning tall headboard, guaranteed to transform some modern luxury to a bedroom instantly.
As experts in bed manufacture and bespoke interior design projects, we are always only too happy to help our customers achieve that perfect mood in just a few steps. If you can't find the perfect upholstery fabric to inspire you, all you have to do is ask! We're here to make sure you have an array of choice and plenty of confidence in any piece of luxurious custom made furniture you buy from us.
Make Your Bedroom Instagrammable
Millennials are tech-savvy they love interacting on their smartphones, no other generations understand why these 20 –and - 30 something that grew up with social media post at the moment images of their home interior, latest purchase, or what they are eating etc. onto Instagram, Facebook or Twitter to get likes from friends and family. So If you wouldn't Instagram your bed, don't buy it!.
How to Style your Bedroom like a Celebrity?
Celebrities are still very influential in Millennials decision to buy if a celebrity gave them the idea or inspiration then they will buy it. Let us take a step inside the glamorous bedrooms of a few famous celebrities chosen by Hello Magazine. https://buff.ly/2UTHPfH
Caring for a Velvet Bed
You may immediately think that a velvet bed frame is going to be challenging to clean and care for from day to day. That's not the case! A modern velvet bed frame is designed to be easy to clean quick spills and marks off, and what's more, it will be resistant to thousands of rubs from sleep to sleep. That means you will always get a bed frame to endure years of use. What more could you possibly need to snooze in style?
Velvet Bed Frames on Sale
Here at Mood Collections, we're proud to be able to offer and supply a luxurious range of upholstered bed frames and bedroom furniture at trade prices that are handmade in Britain by highly skilled upholsterers to homes, mansions, holiday apartments and hotels up and down the country. Whether you like the idea of velvet or prefer something a little less luxurious, we're here to help you find your mood style.
Why not take a closer look at our online bespoke upholstered furniture online store or call us on 0203 826 6212
26 April, 2019