Chair Buying Guide - Types of Chairs and Armchairs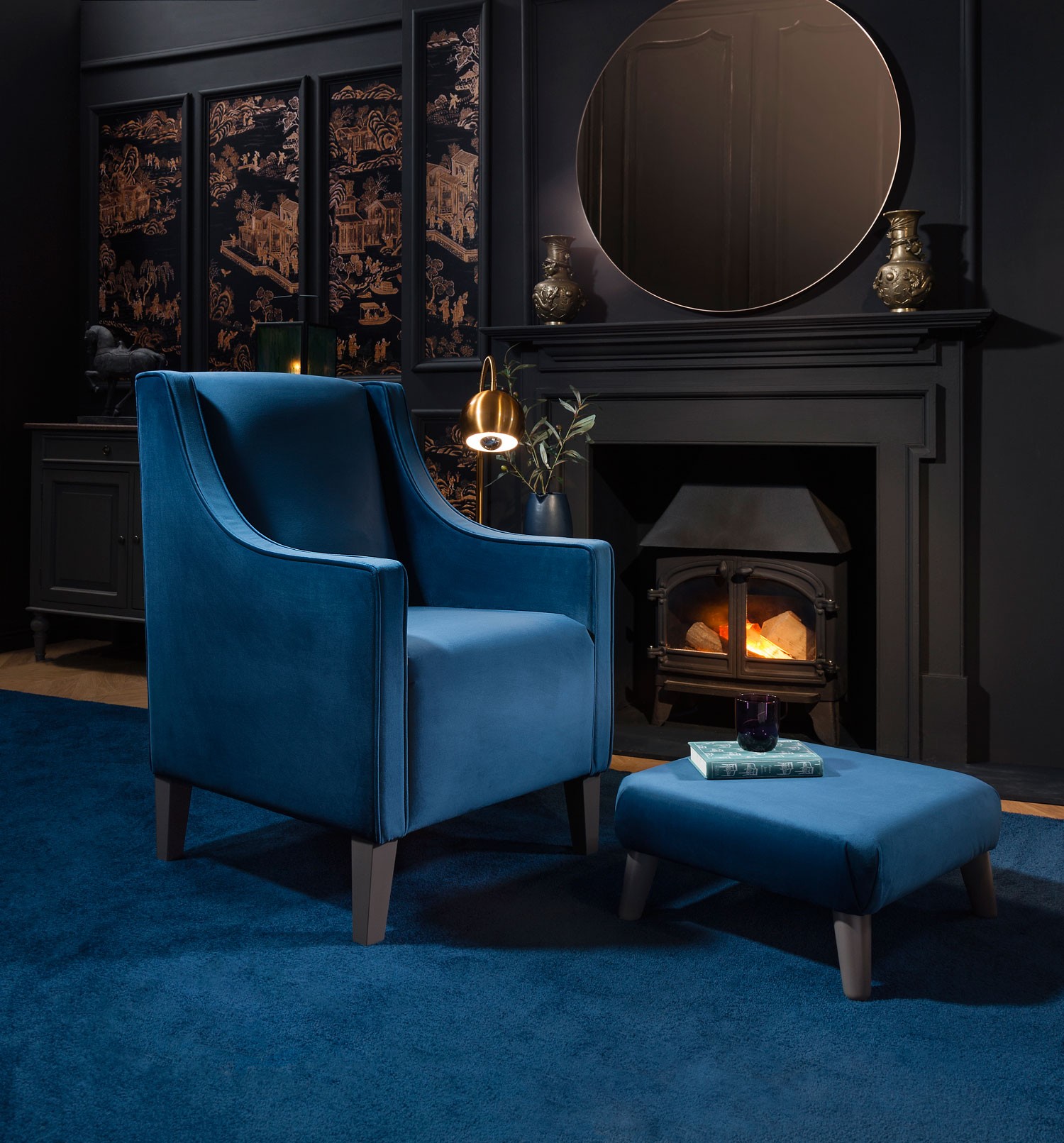 Your home is where you spend time relaxing, entertaining and enjoying life, so having comfortable chairs in your living room, bedroom, dining room or hallway to sit on and rest is essential. Quality is vital, and the style is the utmost importance, to enhance your seating area or resting spot.
When it comes to buying a new upholstered chair or armchair, there are so many different types of chairs to choose, from armchairs to occasional chairs, chaise lounges to contemporary tub chairs.
In this chair buying guide, we will provide you with information on the shapes and styles of chairs to help you decide before purchasing a new comfy chair or pair of armchairs online or in store.

THINGS TO CONSIDER BEFORE BUYING A NEW CHAIR OR ARMCHAIR
Take time to consider what type of chair will suit the room it will be placed in. Are you looking for :
Multi-functional armchair

Comfort and quality

With or without armrests

Types of material and colour

The height of the backrest on the armchair
Let's take a look at some of the more popular chairs available to furnish your home with right now.

OCCASIONAL CHAIRS
As the name suggests, an occasional chair is one which is only ever used on the odd occasion. Occasional chairs are designed to provide a particular accent or style to your room. They can be fantastic focal points, whether ornate or modern. A well placed occasional chair can tie a room together, to complement or complete a certain look.
TUB CHAIRS
The tub chair is a modern chair with arms that are attached to the back of the chair, a popular choice for the contemporary home. Widely available in a range of vibrant colours and looks, these curved-back chairs are big, chunky and offer a bold statement. For simplicity or minimalism, tub chairs are the perfect chair to harmonise your living room. However, they're also brilliant for big, colourful spaces and family rooms, too.
CLUB CHAIRS
The club chair is a comfy, classy upholstered chair and is merely relaxing just to look at, they are the perfect companion to a living room sofa. These deep-seated chairs are commonly upholstered in leather and are so-called as you may find them in traditional gentlemen's club. It has roots in France, where it became known as one of the first trendy, comfortable chairs.
SLIPPER CHAIRS
The slipper chair is similar to an occasional chair in that they're often used to finish the decor of a bedroom or living room. It is recognised by its low height and made its first appearance in the early 18th century when it was placed in ladies' bedrooms for sitting or help with putting on shoes or slippers. Hence the name. The slipper chair is an armless upholstered chair with short legs that sits low to the ground to make it a comfortable choice.
COCKTAIL CHAIRS
The cocktail chair is a small elegant shape upholstered chair, that would look stylish as a feature chair in a bedroom or next to a mid-century sofa or drinks trolley. It made its first appearance in the 1950s and is still an interior trend today, a look borrowed from hotel lobbies and art deco period.
WINGBACK CHAIRS
The wingback chair is a statement chair, it is notable for its high back and wingback sides and is best placed next to a fireside in your living room or in a corner as a reading nook. If you love traditional chairs in a contemporary living room, then a wingback chair is perfect.
CHAISE LOUNGES
The chaise lounge is a glamorous long chair, to say the least. A popular choice of seating to add an air of elegance to bedrooms. The chaise lounge journey began in Ancient Egypt and have a history as a simple yet opulent seating option to lie back and relax.
MID-CENTURY CHAIRS
Mid-century modern never goes out of date and is a popular choice for people. The stylish mid-century chair is attractive, and comfortable and can be a great addition to your living room. 1950s chic that is still so popular in modern homes, 70 years on. Mid-century chairs generally come with clean lines and curves.
TRADITIONAL CHAIRS
When you think 'traditional', you may simply be thinking 'modern'. That's because traditional armchairs still have a fantastic look of the past about them. Detailed buttoning, high backs and exceptional manufacture come as standard.
CONTEMPORARY ARMCHAIRS
Modern armchairs, of course, are a little more relaxed. These chairs are a bit straighter and a bit sharper than traditional, curved models. It's all about minimal design, too – as these will hardly ever come with flourishes or complex curves and twists.
01 February, 2019