Bedroom Furniture – 2019 Trends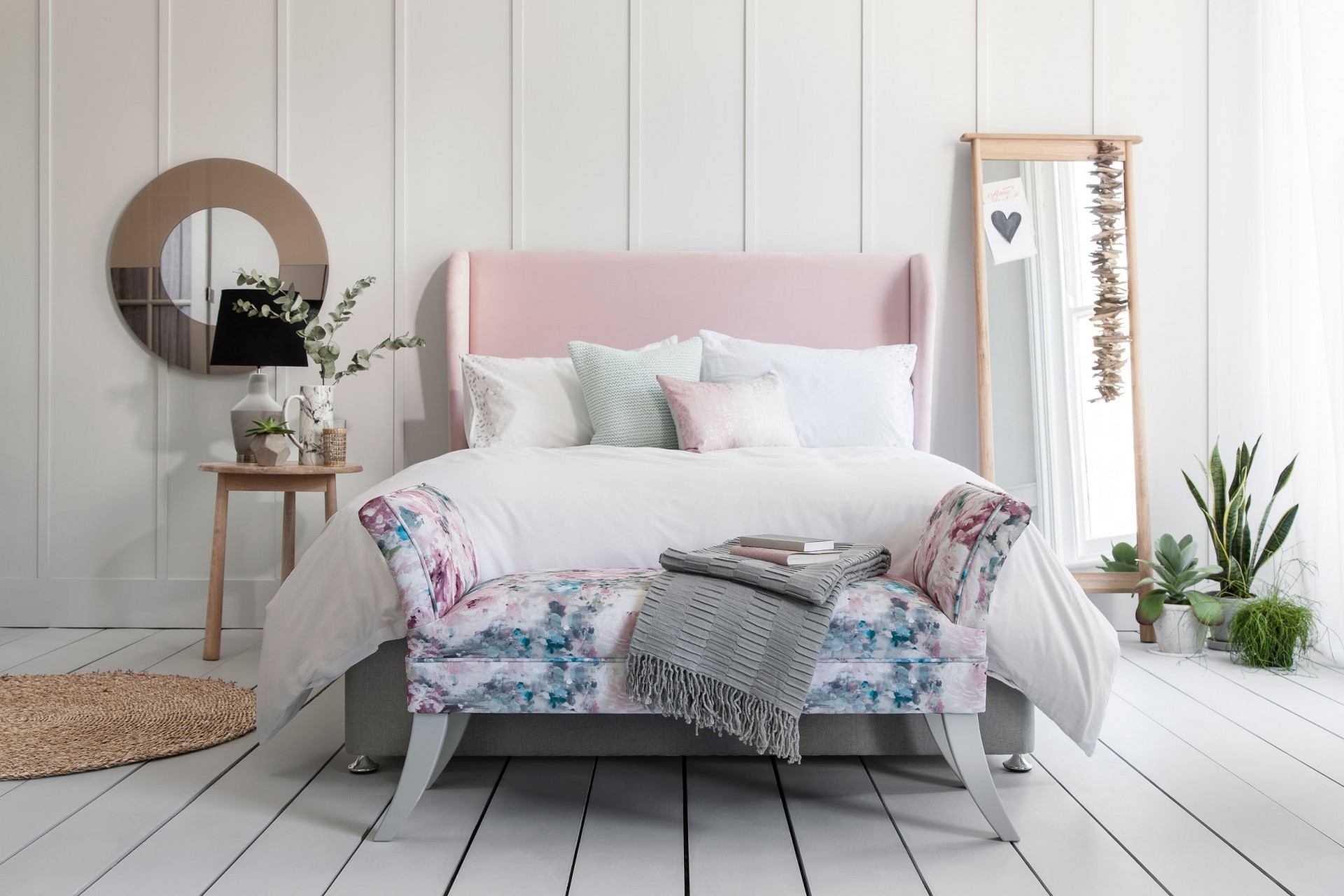 2019 has been here a short while now, and though it may only seem like we've just kicked off the New Year, we thought today would be the perfect time to start thinking bedroom ideas.
Bedroom furniture and bedroom styles are always changing, so let's take a look at some of the must-have interior design trends that will be making their way into bedrooms during 2019.

PANTONE COLOUR OF THE YEAR – LIVING CORAL
Introducing the vivid colour of living coral into your bedroom with luxury bedroom furniture or beautiful accessories will embrace a feeling of warmth and comfort to any bedroom style.

UPHOLSTERED BEDROOM FURNITURE
Upholstered beds and headboards, this is a really luxurious trend you can now embrace in your bedroom by including a luxe headboard and cosy bed frame covered in sumptuous fabrics. Upholstered bedroom furniture is seen as an effortless luxury, bringing in that cool, mellow retro vibe that's still so sought-after moving into the new 20s.

GO CURVY
Love your curves! While in recent years plenty of bedrooms have played host to square, blocky units, curved bedroom furniture is very on-trend. Gentle, smooth curves to bed frames, chairs, bedside cabinets and more. Edges and corners are very much heading out of fashion – if a bedroom that's up to date with the latest trends matters to you, you'll start thinking about bends and curves and less about straight lines and sharp vertices.

MULTIFUNCTIONAL FURNITURE
Our lives have never been more hectic. Most of us need to be more adaptable now than ever before. As a result, 2019 is ushering in growing tastes for multifunctional furniture. That means beds which double as storage, blanket boxes which double as seating, and much more – if it has two or more functions, it's very much in vogue.

VELVET OBSESSION
Velvet and crushed velvet is the hottest on-trend 2019 fabric obsession. Embrace the soft velvet trend into your bedroom, the fabric is exquisitely opulent, and brings luxurious comfort to bedroom furniture and accessories, from upholstered beds, chairs, chaise lounge and ottomans to cushions and throws.
YOUR BEDROOM, YOUR STYLE
This may not appeal to everyone, but there's a trend emerging which is moving away from the standardised flat pack bedroom furniture of old towards custom-designed, custom-made bedroom furniture that you can design and personalise to your own aesthetics and comfort.
18 January, 2019