Bed Buying Guide - Types of Beds and Bed Frames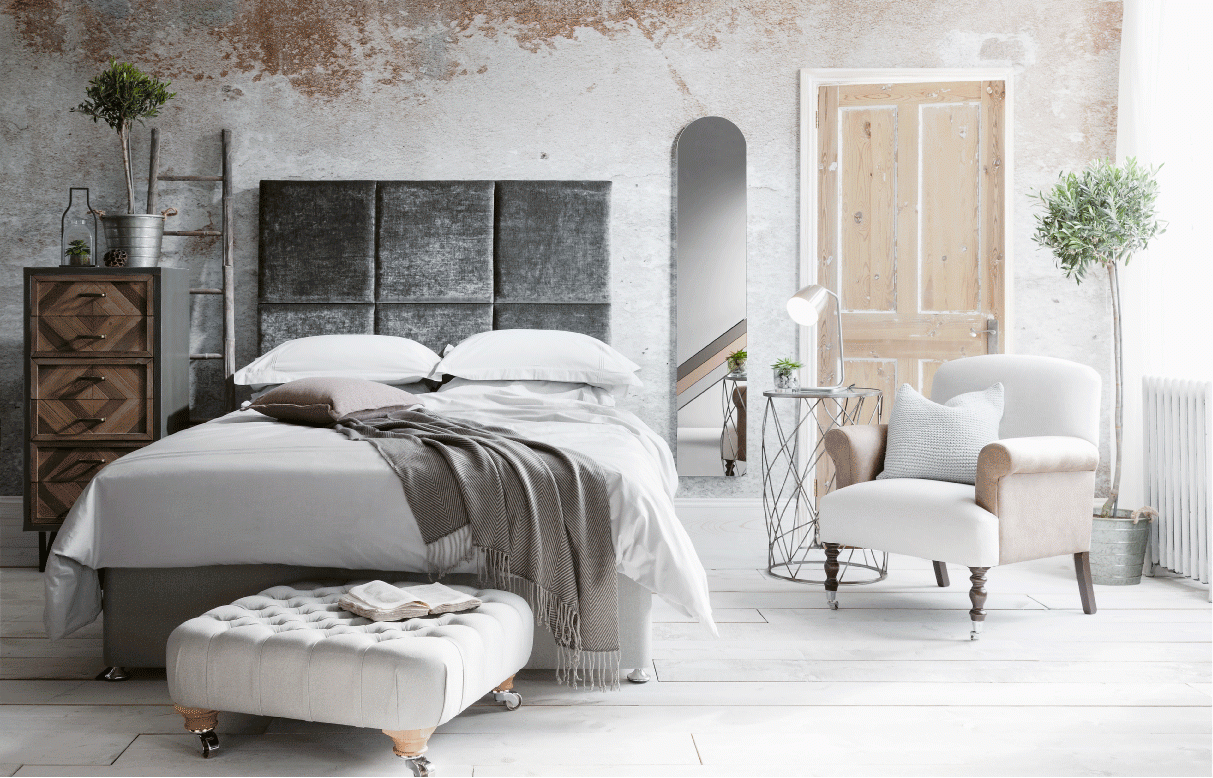 BED STYLES
You spend around one-third of your life in bed, so the bed you choose needs to be comfortable and supportive. Quality is essential, and the style is the utmost importance, so when it comes to buying a new bed or bed frame, there are so many different types of beds to choose from.
In this bed buying guide, we will provide you with you all the necessary information you need to consider before deciding and purchasing your perfect bed online or in store.
DIVAN BEDS
Divans are one of the most popular bed bases in the UK as they are incredibly flexible and customisable. A divan bed base is a wooden box that comes in two parts, designed to last and from a sturdy wood frame upholstered in fabric. The base is usually placed on castors or legs as a design feature. There are four main types of divan base
PLATFORM TOP DIVAN
A great option if you're looking for firm support, constructed from hardboard and has a flat solid top making it a solid base for your mattress.
SPRUNG DIVAN BASE
A great option if you're looking for a softer feel, and good support, constructed from a built in spring unit inside the frame, making it a flexible base for your mattress.
DIVAN STORAGE BASE
A divan base offers the ultimate space-saving solution, with the option of drawers on the side or at the end of the bed without affecting the support or comfort of your bed.
Ottoman Beds
Need some extra storage as well as a new bed? Ottoman bed frames are ideal. Simply lift up the internal frame with ease and slide away everything you need to keep out of sight. These beds are super-sturdy and robust, but may be tricky to move around as a result of storage weight.
TYPES OF BEDSTEADS
Bedsteads
Bed frames can also be referred to as bedsteads. These offer the most luxurious design,comfort, and style for your bedroom For this reason, if you're looking for a luxury bed, a bedstead is likely going to be one of the best first options for you to look at. Whether you prefer fabric, wood, iron or otherwise, there's always likely to be a wide selection of lavish bed frames for you to choose from.
Fabric Bed Frames
Sumptuous, stylish and available in a range of fabrics and colours, fabric bed frames are ideal for bedrooms of all sizes and design schemes. Fabric frames are well-known for being super-comfy and are designed to weather years of use, too.
Upholstered Beds
Upholstered bed frames are the height of luxury. What's more, these beds are desinged by you and arrive in a vivid range of colours, fabrics and styles! If comfort is very high on your agenda (and if you're shopping for a bed, it really should be), you may wish to go upholstered.
Sleigh Beds

Sleigh beds the shape of a horse-drawn sleigh originated from the French and American Empire period of the early 19th century. Traditionally sleigh beds are upholstered with wood, and they are raised high off the floor, the scroll-shaped headboard is slightly higher than the open or low footboard. Modern upholstered sleigh beds are now an on-trend bed with millenniums, that are super-modern and the most sought after bed by well-known celebrities. From contemporary to French style sleigh beds that are recognised by an outwardly scrolling headboard and an open or low footboard. They go wonderfully well in full, spacious rooms and modern spaces.
18 January, 2019