6 Design Tips to Create Space in your Home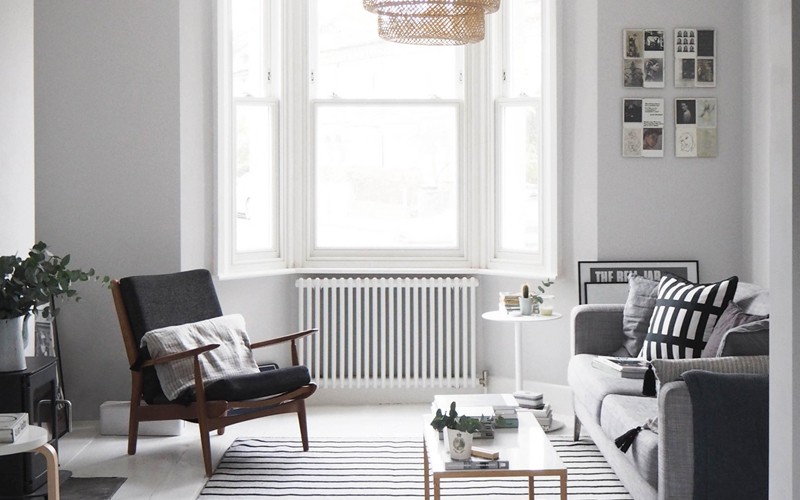 Welcome to the first of our In the Mood interior design tips. Each month we will be offering useful décor and styling tips for your home based on a theme. This month we are talking about creating the illusion of space in your home. Whether you're looking to maximise the box room or your entire home, these simple tips will inspire and work wonders in the spacially challenged areas of your home.
1. Use a light colour scheme
Painting the walls in a light or neutral colour scheme will ensure that your room looks bright and airy and will give the illusion of space. Paint brands have now even created specialist paints that reflect the light back to make rooms even brighter, try Dulux Light + Space. Avoiding lots of dark furniture and accessories will help too.
2. Get creative with unused space
Make use of unused areas of your home for extra storage to minimise clutter. Create bespoke storage and shelving in the space under the stairs, a cubby hole, behind doors or partition off the space where there's a slanted ceiling at its lowest to create built in cupboards.
3. Create the illusion of space with mirrors
Hanging large mirrors will make the room feel twice the size. They give the illusion that the room continues further than its four walls and will reflect light. Hang mirrors on the wall that captures the most sunlight for maximum impact.

4. Think vertically
If you have limited floor space raise as much off the floor as possible. Use the vertical space to maximise the room's potential, with tall shelving or by adding smart basket or box storage to the top of a wardrobe for a stylish but practical finish.
5. Dual purpose furniture

Keep furniture to a minimum to
maximise
floor and wall space by choosing items that are multi-purpose such as storage beds or window seats with a built in storage space. Ottomans are a quick and easy way to create a window seat – browse our upholstered ottoman range.
6. Go for the minimalist look

Overcrowded surfaces will only make a room feel smaller. De-clutter and go for a minimalist style displaying a few key pieces. Less is definitely more when it comes to creating space!
The Selham vases
make for a lovely statement piece.
Take a look at our Creating Space Pinterest Board for inspiration
Main Image Sourced from Pinterest: Cate St Hill
Image 1: @aptapothecary Image 2: @swoonworthyblog Image 3: @hegeinfrance
Published by Mood Collections
02 August, 2017