6 Design Tips to Create an Inviting Home at Christmas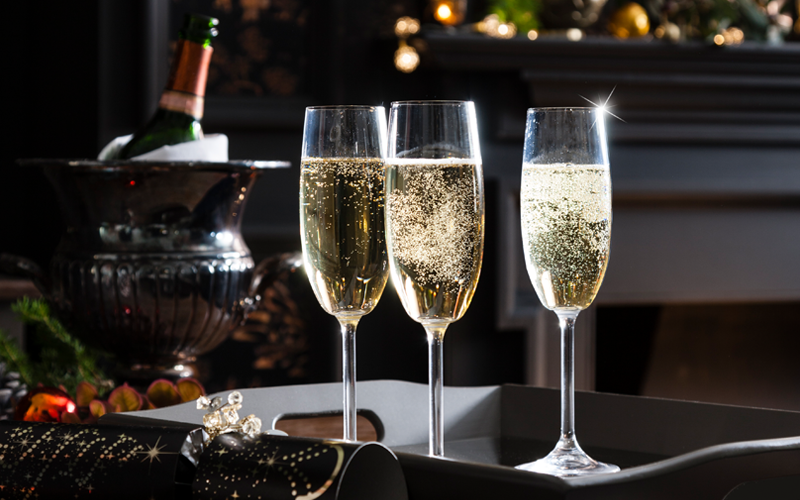 The festive season inevitably brings with it lots of socialising and extra visitors to our home. Entertaining family and friends in your home is a great way of seeing everyone, keeping costs to a minimum and it makes for a wonderfully intimate and personal setting. We take great pride in our homes, so making sure we are prepared to welcome guests is a must to decrease the stress that can come with the busy lead up to Christmas. Here are our 6 tips for creating an inviting home whether your get together is a planned or an unplanned affair.
1. Create a welcoming first impression
The front of your house and the hallway are the first things that your guests will see. Often the entrance can be a neglected space for dumping coats and shoes that we usher guests through quickly. A little bit of attention in the hallway can go a long way when it comes to creating a welcoming first impression. Add a welcome matt and a festive wreath to the front door and perhaps some lights to set the festive tone; the selection of traditional wreaths from Balsam Hill is beautiful. Use a feature seat with built-in storage or storage baskets and ornate hooks in the hallway to keep shoes and coats tidy. Add a homely touch with a vase of festive flowers, if your hallway space is too small or narrow for a hall table, a radiator cover will style up your radiators and offer a surface to style with accessories and Christmassy touches.
2. Tidy as you go daily to ensure you are guest ready
Often as we get into the festive spirit spontaneous invitations of drinks and mince pies at home become the norm, plus friends and family are more likely to just pop round to drop in a card on their way past. Ensuring that you have a tidy home throughout December can be daunting, but keeping on top of the tidying, doing a little bit daily will ensure that you are guest ready at the drop of a hat. Getting all of the family involved to do their bit will lighten the load too. Focus on one room each day for a freshen up rather than one big clean for hours at the end of the week. Whip round at the end of each evening gathering up all of the clutter that has accumulated over the day and relocate things to their rightful place. Fluff up the cushions and straighten the throws before bed. Just doing these little things will help keep the work to a minimum and your home looking nice.
3. Delight the senses
Creating a welcoming atmosphere is all about delighting your guest's senses. Use fragranced candles to make your home smell delightful and add a lovely cosy glow. Having a music playlist ready to go for Low-level background music will add some festive cheer, whether it be Christmas themed or a selection of your favourite chilled artists. There are loads of great playlist options on Spotify to choose from. Keep a selection of drinks like mulled wine and ready-made nibbles in stock so you always have something to offer guests. If you are a keen cook, there is nothing better than the smell and taste of freshly cooked canapes and sweet treats.

4. Deck the halls
Christmas wouldn't be Christmas without some festive décor. There are so many different sophisticated and fun trends to choose from, my favourites this year are:
Winter Wonderland – a combination of white, ice blues and silver. Mix textures of frosted glass, silver metallic trinkets, hints of blue and snow-covered leaves and branches to create a dreamy winter wonderland. Our Keymer Ice blue and silver ombre cushions and the Wiston Set of 3 Vases perfectly emulate the winter wonderland theme.
Traditional – take inspiration from Scandi festive décor mixing traditional red, green and hints of gold. Red bows, baubles and berry's, natural greenery from holly, ferns and mistletoe, handmade decorations and subtle gold accessories.
Metallic Glam – The metallic trend is going nowhere. Golds and silver have always been a popular choice for Christmas, but this year the glam look is bigger than ever. Mix warm gold, bronze, and black in a multitude of textures on everything from tableware to baubles to create a 1920s-inspired glam look.
5. Dressed to impress
Your outfit is, of course, important, but in this instance, I am referring to dressing your festive table. Around the table is often where the Christmas magic happens; food lovingly prepared shared with friends, flowing drinks, conversation, laughter, and games. It's the attention to detail that will make your festive table look truly spectacular.
• Start with a good base, your look may perfectly suit using your wooden table uncovered, or adorn with a perfectly pressed tablecloth or table runner.
• A statement centerpiece is a must, a festive bouquet or floral arrangement will make a stunning statement. Or why not have a go at making your own? There are some great inspiration and tutorials on Pinterest and YouTube.
• Carefully selected table mats will take a practical essential to being a stylish accessory – our Coleford, tables, place and drinks mats in antique bronze, antique silver, and diamond blue, make a luxury statement.
• Mixing, matching and layering tableware and glassware will add drama to your table, Wedgwood has some truly beautiful designs.

• Add the finishing touches with cloth napkins in an accent colour, napkin rings, silverware, candles, and place name holders - we love these personalised marble place settings from Sophie Victoria Joy.
6. Perfect company
Now all that's left to add is you – the hosts! After all your guests want to spend time with you. Relax, spend time with your guests, not hidden away in the kitchen; the tidying up can wait until later. Enjoy yourself and make magical memories and start new traditions to be repeated year on year!
Image Credits:
Balsam Hill
Love Grows Wild - Pinterest
Apart 17 - Pinterest
30 November, 2017